Sundance Vacations: How to Make a Vacation Countdown
So you booked your Sundance Vacations' trip and are just as excited as your children to get away! But let's face it, the real hype starts one month before the day you leave for the trip.
Instead of simply squeaking a big, red "X" over each passing day on your calendar, consider a more interactive project with your kids.
You used to love popping chocolate out of your Christmas advent calendar to count down the days 'til your favorite holiday (and it's okay if you still do).
Perhaps you've never considered taking this concept and personalizing it to create your own vacation countdown. But how do you make a fun countdown calendar for your kids?
It's really quite easy!
Step 1- Gather Your Supplies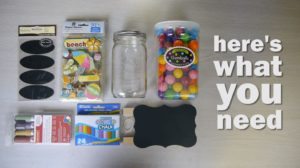 Here's what you need:
A mason jar with a label
Gumballs (or any other candy or small toys to fill the jar)
A mini dry-erase board on an easel (plus Wet Ones or a chalk eraser)
Chalk or chalk markers
Stickers
After you gather your supplies at your local Michael's or AC Moore, you're ready to start putting your countdown together.
Step 2- Fill Your Jar
Label your jar with whatever you like. We labeled this one "Our Sundance Vacation" but you could simply write "Our Getaway" if you're not a Sundance Vacations traveler.
Once labeled, open your candy or treat for your child and fill up the jar with goodies. Count out the exact amount based on the number of days you want your children to pick from the jar. We recommend beginning at 30 days from your trip to build just the right amount of hype prior to your vacation.
Fill the jar with your items, maybe even a mix of candy, pencils, stickers, or other fun things to give the prizes some variety to excite the kids.
Step 3- Decorate!
Next, cut open your pack of stickers and decorate the outside of the jar with your vacation theme. For example, if you're planning a beach trip stick some flip flops and a beach ball on it.
This is a super fun craft to do as you count down the days until your Walt Disney World vacation. Press some stickers of your little one's favorite Disney character on the jar or cut your label to look like Mickey Mouse ears. The decorating possibilities are endless!
Now that your jar is done, on to your board.
Grab a chalk ink marker, like we did here, and write "Days 'Til the Beach" or your specific destination as well as the number of days until your big trip.
Your child can enjoy a treat a day from the jar and change it every morning before school.
If you use a chalk marker instead of actual chalk, it's also a good idea to buy Wet Ones or simply use a wet paper towel each day to erase the old number and replace it with the new one.
Changing the day and picking out a new treat will be something exciting for them to start the day with until they reach the last morning before!
Are you just as eager to make this countdown as you think your child will be to use it? Share this article on Facebook or Pinterest so other parents can create this fun craft as well.
Happy counting!
For more information, updates, travel tips and news from Sundance Vacations, be sure to follow us on the following social media outlets: