It's true that people like to swap their cellphones and laptops for fishing poles and sunscreen while travelling, but what if electronics could elevate your vacation to new heights? Stay healthy, entertained, and safe while on your dream Sundance Vacations getaway. Here are some of our favorite gadgets and gizmos that you should consider packing into your suitcase for your next adventure!
---
Portable Wi-Fi Hotspot
Ensure that you have a reliable Wi-Fi connection wherever you wander! While on vacation, it's important to keep in touch with family and friends, especially to share the overflowing photo albums on your phone. Pocket-sized and easy to carry with you on the go, portable Wi-Fi hotspots are a much safer alternative to public Wi-Fi. Keep your data and personal information safe while travelling. These are especially convenient if you don't have an unlimited data plan. Stay connected, even when off the grid!
---
Streaming Device
Want to watch your favorite show while on vacation? Sometimes we build a day into our busy schedule to hang out at our resort. Not all resorts have certain channels and streaming services. Access popular streaming services like Netflix, Hulu, and Disney+ when you plug the HDMI supported device into your resort or hotel television! Streaming devices like the Amazon Fire TV Stick and Roku Streaming Stick are small, compact, and easily packed into your luggage. Stay up to date on your favorite series or help your little ones fall asleep by playing their favorite YouTube video.
---
Tile Mate
Slip into bags and wallets or loop onto your keyring to easily locate in the unfortunate event of theft or loss. Tile Mate easily connects to your iOS or Android device through Bluetooth and can be tracked by using the Tile Mate app. Each Tile Mate has its own unique QR code, so even when you misplace something outside of Bluetooth range, the QR code can be scanned when found and you will instantly be alerted of its whereabouts! We know that packing up bags for a day of fun can sometimes be hectic, so be sure to know where your important belongings are at all times!
---
Oura Smart Ring
Just because you're on vacation doesn't mean you can't stay active! Less bulky than a FitBit or Apple Smart Watch, the Oura Smart Ring is made from durable titanium and is lightweight (even lighter than the average ring!) Oura Ring can monitor and report on sleep patterns, rising and falling heartrate, step count, calories burnt, and much more. You can connect your Oura Ring to apps like Apple Health and Google Fit to further track your activity levels. This little ring can help keep you healthy while on vacation.
---
Sandless Beach Mat
Enjoy laying on the sand without the sticky mess! We know a lot of people who love the beach but aren't a fan of the feeling of sand on their skin. Sandless beach blankets, towels, and mats are often made from durable parachute fabric that repels sand. The smallest shake of the mat and the sand will go flying, leaving no debris left behind! Sandless beach mats are unique because of their multiple layers that allow the sand to pass through the fibers and back onto the shore where they belong. Enjoy your time at the beach without aggravation!
---
Pocket Scarf
Keep all your personal items and effects close to your chest—literally! These soft, fashionable infinity scarves are perfect to wear to stadiums and arenas where large bags and purses are prohibited. Securely store your phone, ID, and credit cards in the discreet zipper pouch. Travel without having to worry about what might fall out of your pockets. The pocket scarf comes in many different designs, like solid colors, plaid, tartan, striped, etc.
---
Sanitizer Wristband
We're constantly touching different door handles, amusement ride lap bars, and resort light switches while on vacation. It's important to have some form of antibacterial disinfectant handy, especially today. Made from soft silicone, these adjustable wristbands come in a vast rainbow of colors and snugly hug your wrist. Many sanitizer wristbands, like HanzGard, are refillable. Liquid or gel sanitizer can be inserted through a small entry hole on the band. Convenient, stylish, and clean—what more could you ask for?
---
Wacaco Minipresso
I'll be honest, I wouldn't be able to function in the morning without my daily dose of caffeine, and I know I'm not alone. Imagine walking through a theme part from 9AM to 11PM without a single cup o' joe. Unimaginable, right? Who wants to spend $5+ for a watered-down cappuccino?  With the portable Wacaco Minipresso you can make your own coffee on your own time! Take a much-needed break and fill your built-in espresso cup to the brim. The Wacaco Minipresso is the perfect addition to any long walk or hike!
---
LifeStraw
This amazing tool is a must-have for those who prefer outdoorsy outings and hiking adventures. The LifeStraw's microfiltration removes bacteria, parasites, and harmful materials from water found in lakes, streams, puddles, and other bodies of water. Never be in fear of running out of clean drinking water with this handy straw. If properly maintained, you can expect to sip over 1,000 gallons of fresh water from the LifeStraw.
---
Picture Taking Sunglasses
Ever wanted to blink and capture a moment unfolding in front of you from your own perspective? The best views are often seen through our own eyes. No fancy camera lenses or angles can replicate those natural moments. Until now! One of the more popular brands of video recording sunglasses are the Ray-Ban Stories Smart Glasses. Use touch and voice controls to snap pictures, take phone calls, and listen to your favorite music—all without sacrificing style! Video recording sunglasses can come in a variety of different shapes, like round, rectangle, and upturned.
---
For more information, updates, travel tips and news from Sundance Vacations, be sure to follow us on the following social media outlets:
Summary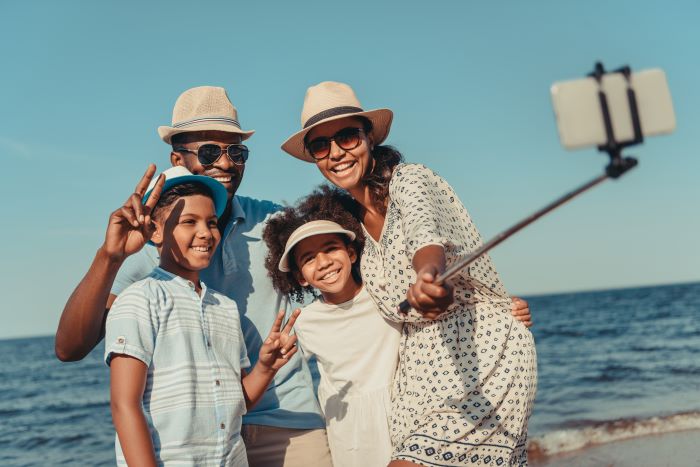 Article Name
10 Gadgets to Take on Your Next Sundance Vacations Trip
Description
Stay healthy, entertained, and safe while on your dream Sundance Vacations getaway. Here are some of our favorite gadgets and gizmos that you should consider packing into your suitcase for your next adventure!
Author
Publisher Name
Publisher Logo