Where to Get Married in Las Vegas from Sundance Vacations
Alright, I caught you. You said yes and now you're trolling the internet obsessing over Las Vegas wedding chapels.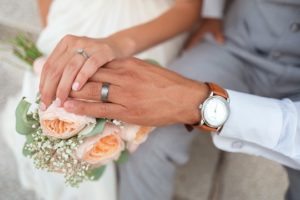 Girl, let's be real. We're all guilty of it.
Sundance Vacations knows that travelers can't get enough of the Entertainment Capital of the World and brides-to-be are no exception.
Who can blame you for wanting to get married in Las Vegas, one of the most energetic and dazzlingly cities in the country? It's romanticized in your favorite songs — let's crank up Katy Perry's "Waking Up In Vegas"— and although you like to plan and might not want to wake up from a wild night with a new wedding ring on your finger, some secret part of you loves the spontaneity and thrill of saying "I do" in Sin City.
From breathtaking outdoor weddings under Nevada's palm trees to traditional little white weddings in a crystal-adorned chapel, there are Vegas wedding packages perfect for your big day.
Let's take a look at some of the best Las Vegas wedding venues from Sundance Vacations!
Cili Weddings, Las Vegas – Hitched in Paradise
Las Vegas isn't all lights and action, in fact, Cili Weddings at Bali Hai offers quite the opposite.
Become forever theirs in front of Nevada's gorgeous desert palms and listen to the soft sounds of the blue lagoon.
This tranquil location is a refreshing escape from the flashing casino floors. Located at the end of the city's strip on Las Vegas Boulevard, it's still within reach of the city's exciting attractions, but far enough away to feel secluded from it all between the mountains.
Pronounced "see-lee", this wedding location takes its name from the Balinese blessings of prosperity, good health and great fortune.
Cili has three different Las Vegas wedding packages for an outdoor ceremony and reception, accommodating guests of 30, 80 and for large parties of up to 250 attendees.
Unlike most Las Vegas wedding venues where not everything is included, Cili Wedding's all-inclusive packages save you the hassle of tracking down a florist or DJ, or even searching for cakes or décor. Plus the chef only serves the finest, fresh, non-GMO preparations so there's no need to search for that organic caterer you were dreading paying for.
Cili's staff even prepared a list of their recommended vendors for you to design your invitations, get your hair and makeup done and more.
Can you say, stress-free wedding planning?
Take a look at their flawless photo gallery on Cili Weddings.
Chapel of the Flowers – Wed Like a Celeb
Chapel of the Flowers received a 2016 Certificate of Excellence from TripAdvisor, a 2016 Weddingwire Couples' Choice Award and made the Hall of Fame for The Knot "Best of Weddings." With such prestigious recognition, it's no wonder Sundance Vacations recommends this chapel to our travelers!
Their Victorian Chapel Las Vegas wedding venue is a favorite of celebrities, including country stars Carrie Underwood and Rascal Flatts who filmed at their location for their music videos "Last Name" and "Why Wait?", respectively.  It features wooden pews with seating for 30 guests, marbles floors and sweeping silk drapes depicted above. Plus, Chapel of the Flowers offers two other indoor chapels, the Magnolia Chapel and La Capella Chapel, for three different environments curtailed towards each couple's preferences.
Chapel of the Flowers also offers four outdoor locations to wed, including an experience at the Grand Canyon! This unique wedding idea is great for the couple looking for a small wedding, as the helicopter trip into the canyon only allows room for the couple, two guests, the minister and a photographer. Learn more about getting married at the Grand Canyon on the chapel's website.
Couples can also tie the knot in the Valley of Fire, a Nevada State Park with gorgeous red sandstone. This package offers a 45-minute limo ride from the chapel with up to six guests where they can celebrate after the ceremony with some sparkling cider before photographs.
Insider Tip: Who wants to twist an ankle on her wedding day? Bring some flats or supportive shoes for roaming the dessert and save those knock-out heels for another day!
Not looking to travel into the desert for your ceremony but still love the outdoors? Consider saying "I do" surrounded by plants and a trickling fountain at Chapel of the Flower's Gazebo or on the cobblestone path at The Glass Gardens.
You'll find all you need and more on their website; you can even live stream a wedding to see what it's like!
Chapel in the Clouds – The Sky is the Limit
Some people say falling in love is like being on Cloud nine. Take your wedding to the sky by getting married at the Chapel in the Clouds inside the Stratosphere in Las Vegas.
Hold your Las Vegas wedding ceremony in a polished room with creamy accents such as the Bella Vista or the Bella Luna, depicted above. Both rooms offer similar elegant décor, however, the Bella Luna room is perfect for smaller weddings of 20 guests or less while the Bella Vista room is great for parties of 90.
There are two main areas to hold your dream reception, such as the Renaissance Room. This room is located on the 103rd floor of the Stratosphere Tower overlooking the city through large glass windows and is adorned with brilliant purple dressings. Or have your reception on the 104th floor in one of three rooms: Twilight, Sunrise or the Horizon which can accommodate up to 240 guests and have 1,200-square feet for spacious mingling.
Chapel in the Clouds also has wedding consultants dedicated to fulfilling your request and ensuring the space looks just as you imagined your Las Vegas wedding would.
They offer private buffet rooms to serve scrumptious treats and a beautiful location on a private balcony to take pictures with your sweetheart overlooking the city on the Observation Deck. Feel the desert breeze and enjoy Nevada's warm weather or take your photos inside on the indoor observation deck.
Choose whether you'd like to pose in front of the bright city or the natural dessert in your photos! This wedding venue offers a plethora of options to ensure your day is everything and more.
More Las Vegas Weddings
This is just a sneak-peek at some of the amazing places to get married in Las Vegas! There are tons of other wedding venues to check out on TripAdvisor and more.
With so many options, you're certain to be able to plan your fairytale wedding with ease!
Be sure to see all the exciting Things to Do in Las Vegas so you can enjoy your time in area by watching our video below or reading about it on our Sundance Vacations Blog:
Tell us about your Las Vegas wedding experience in the comments below and be sure to share this article with your other girlfriends! Just make sure you call dibsies on your favorite wedding venue first.
For more information, updates, travel tips and news from Sundance Vacations, be sure to follow us on the following social media outlets:
Start Planning Your Las Vegas Wedding!