With January almost gone and the second month of the new year well on its way, many figure it is time to hunker down and wait for the spring season to arrive before thinking about traveling.  A lot of Americans travel during the major, year-ending holidays in November and December, but today we'd like to suggest another holiday that presents a totally different set of options.
Have you ever considered or taken a romantic getaway with your special someone for Valentine's Day?
With the holiday geared towards lovers falling on a weekend this year (Sunday the 14th), it even allows for the opportunity for you turn it into a weekend retreat!  Planning a weekend for just the two of you can be just what you need to make it through the rest of the winter.
Many of the men out there may be trying to figure out what it is that you are getting for your loved one this year.  I have visions of when I once worked retail, I can still picture the scene.  Valentine's Day, five in the afternoon rolls around and suddenly the entire store is filled with men fresh from work.  Most of them scrambling to find flowers, cards and those all-important chocolates.  If you fall into this category, maybe 2015 can be the year you step up your game.
Plan a romantic escape for you and your special someone and you'll look like a superhero.
Now you all may be wondering, "What would be a great place to take this romantic trip?"  Well my friends, have no fear!  Keep reading to discover some of the best places to spend Valentine's Day in the United States.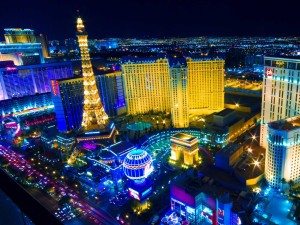 A Flashy Trip
Not everything that happens in Vegas has to stay there.  Bringing back long-lasting memories from a vacations is what traveling is all about!  With over 50 wedding chapels in the city, the Sin City boasts that more than five percent of all marriages occur there each year.  Just because you are in Las Vegas doesn't mean you have to tie the knot, however.  There are plenty of other attractions to keep you and your loved one busy!
You can find romance right on the world famous strip.  The Bellagio Fountain is one of these options and best of all, it's free to watch!  The water contained in the fountain would be enough to fill 2,000 swimming pools and the city of Vegas states that more than a few wedding proposals have taken place there.  The Venetian hotel offers Gondola rides through there canals, modeled after the city of Venice in Italy, what could be more romantic than that?  Perhaps the Eiffel Tower at the Paris hotel in Vegas?  Or maybe you can take a ride on one of the newer attractions, the High Roller Wheel, a giant Ferris wheel-type ride with enclosed cabins that allows you to see the city from 550 feet up in the air!  It currently is the world record holder for largest observation wheel.
With tons of shows, casinos and dining options, Vegas could be just what you are looking for in a getaway from everyday life for you and your Valentine.  And hey, should you decide to take the plunge while in Vegas, I'm sure there are more than enough Elvis impersonators to exchange vows.  For more information about the activities in Vegas, check out their site: "Vegas.com."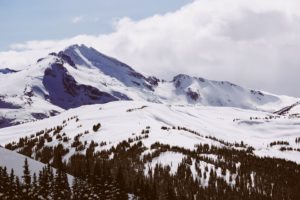 A Snowy Alternative
Obviously the month of February has some of the bigger snow storms of the winter months, which means, it can be a great time of year if you and your loved one are into skiing or snowboarding.  One of the great things about the United States, is that there are virtually ski areas on both sides of the country.
On the Eastern Seaboard, there are places like Vermont, Upstate New York and even the Pocono Mountains of Pennsylvania.  Places like Stowe in Vermont offer some of the best skiing available, while keeping you in the mountain feeling.  The Pocono Mountains have long been a romantic getaway destination, along with the ability to ski.  For a more in-depth list of things to do in the Poconos, read our more recent post about them here: "Wintertime in the Pocono Mountains."
Meanwhile on the other side of the nation, the Rocky Mountains deliver some of the best skiing the country has to offer and some amazing scenery to boot.  Places in Idaho, Utah, California and of course Colorado offer multiple resorts and a number of choices for your skiing or snowboarding pleasure.  In South Lake Tahoe for example, travelers would have the option of six separate ski resorts that surround the lake.  Take a look at those options here: "Ski Lake Tahoe"
A Warmer Option
Many have dubbed Savannah, Georgia as one of the nation's most romantic and charming cities.  It's not a surprise then that it tops a lot of lists as one of the best places to celebrate Valentine's Day.  With a number of options for tours of the city, historical, heritage, architectural and more, it can be a fun way to learn a little something and enjoy a topic you may love along with your significant other.  The city also offers River Boat Cruises that can make for a unique and romantic experience, they even have dinner cruises specifically designed for this holiday!
It is also only a brief drive from Hilton Head, South Carolina, which offers another whole host of options for your lovers retreat.  If you golf or play tennis as a couple, you may want to visit one of the 24 golf courses there, or lace up your sneakers and hit one of the over 350 tennis courts.  Add in the ability to lay on the beach, hike, bike, kayak, shop and dine at some really great restaurants and you have a recipe for an amazing romantic escape for two.
For more information about the city of Savannah check out their website here: "Savannah.com" and for more info about Hilton Head, click onto their site here: "HiltonHeadIsland.org"
So remember!  Just because Valentine's Day falls in the winter months, doesn't mean you can't have fun and travel to celebrate!  These are just a sample of some of the great romantic destinations that are sprinkled throughout the United States.  Pick something that works best for both you and your significant other, so that you both get equal enjoyment from the trip.
And to all the fellas out there, trust me, you planning a romantic getaway will certainly impress your special Valentine.  Whether you have been together for months, years or longer, you can be sure that your partner will see how much you truly do appreciate them and all that they do for you.   Make them remember why they love you so much, if you do that, Cupid might just be able to take a vacation of his own.
For more information, updates, travel tips and news from Sundance Vacations, be sure to follow us on the following social media outlets:
Valentine's Day Getaway Ideas
Summary
Article Name
Valentine's Day Getaway Ideas
Description
With Valentine's Day just a few weeks away, now is the perfect time to plan a little getaway to surprise your special someone on Valentine's Day! Read more.
Author