Sundance Vacations' employees had the opportunity to experience a fabulous day in the park on Father's Day ( June 15).
But, it was much more than a walk in the park. It was the 24th annual Sundance Day at Dorney Park and Wildwater Kingdom in Allentown. And for the record, Sundance actually broke its own attendance record as 742 employees took advantage of the free day in the amusement/water park. The event is sponsored by Sundance Vacations and is open to employees at all of its marketing and sales offices. Sundance Day at Dorney is held to thank and recognize the work ethic of the Sundance family.
"This was the highest company turnout we've had since the inception of Sundance Day at Dorney more than two decades ago. Seven hundred and 90 employees responded to the invitation and 742 showed up. That surpassed the previous company turnout of 640 employees," said Jackie Quigley of Sundance's corporate headquarters in Wilkes-Barre.
Sundance Day was open to Sundance Vacations' employees, their spouses and children (under 18 years of age). Unattached employees were able to bring one guest.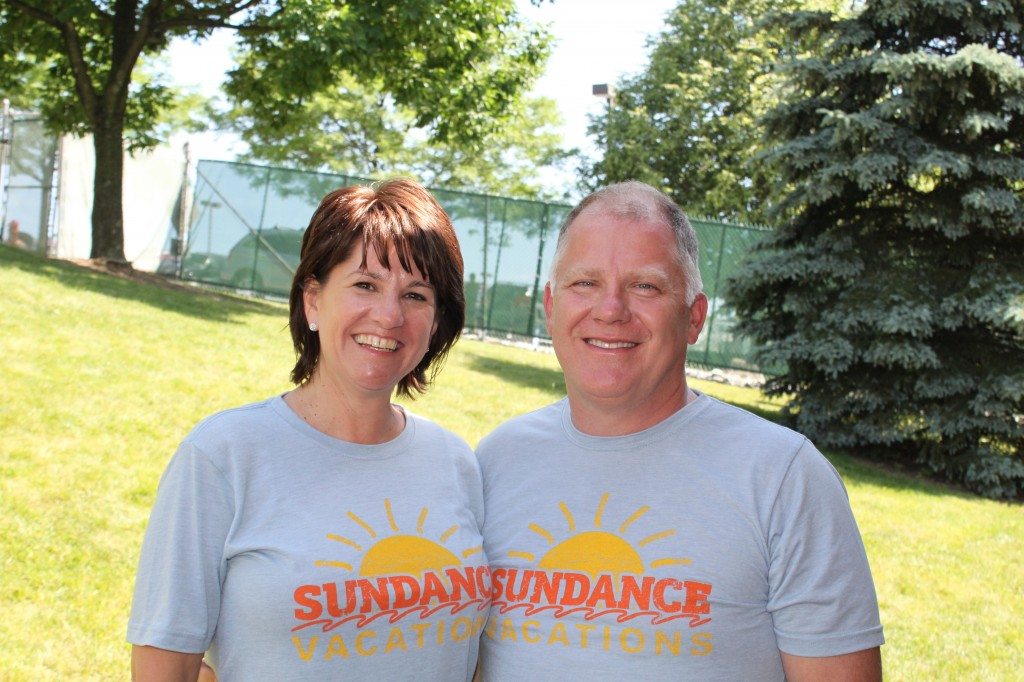 In addition to admission to both parks, the Sundance employees also were treated to picnic food from noon to 5 p.m. in the Sundance pavilion. The menu included hamburgs, hot dogs, fried chicken, baked ziti, pasta salad and baked beans. And, of course, no day in the park would be complete without ice cream and there was plenty of ice cream sandwiches and cones to feed everyone's sweet tooth.
All of this, in itself, would have been more than enough for Sundance employees. But, there was more. A prize drawing was held at 3 p.m. under the Sundance Pavilion. Prizes included a vast assortment of gift cards, Android tablets, tickets for sporting events (Philadelphia Eagles and Penn State), as well as four-packs of Dorney Park tickets. A total of 36 prizes were awarded to members of the Sundance family.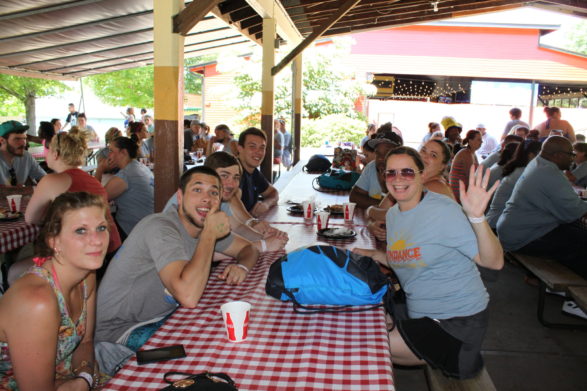 The grand prize of an excess inventory week and a week of paid vacation was won by Melissa Buruca of Sundance's Washington, D.C. sales office. And to top that off, she also was the winner of two tickets for a Penn State game.
Buruca, a receptionist at Sundance's Washington office, spent the day in park with her husband, Francisco, her daughter, Mariana, 6, and her niece, Lena, 6.
"It was a very exciting day, especially when I won the grand prize. We had a lot of fun in both parks and they're equally as much fun. It also was great meeting different people from all of the Sundance offices," she pointed out.
Despite being a three-hour drive from D.C., Buruca said she can't wait to go back to Dorney Park. "It was our first time at Dorney and also our first time in Pennsylvania. As for returning to Dorney Park/Wildwater Kingdom, Buruca said she intends to hit the parks before the end of summer.
Another prize winner was Jenn Smith, a senior telephone service representative at Sundance's Tamaqua office, who did Dorney with her daughters, Sara, 15, and Julia, 10, and her boyfriend. "It's always more exciting when you win something," Smith quipped. She was the winner of six tickets to a Phjiladelphia Soul arena football game.
A 13-year employee who started her stint with Sundance at the age of 17, Smith said, "It was a beautiful day and the food was great. We had a great time in Dorney Park, but we didn't do Wildwater Kingdom because we didn't think it was warm enough. We really enjoyed the day as a family and we look forward to next year."
Tabitha Padden, a telephone service representative at Sundance's Wilkes-Barre office, echoed the sentiments of Smith. "We had a blast and we spent a good portion of the day in Wildwater Kingdom. Though we did both parks, we liked the water park the best," Padden offered. Accompanying Padden to Sundance Day at Dorney were her three sons, Colton, 6, Nathan, 8 and Timmy 13, as well as her fiance, Jeremy.
"The food was terrific and my boys really enjoyed and put a big dent in the ice cream supply. We couldn't have asked for a better day. The weather was perfect and the day in the park was perfect," Padden noted. Continuing, she said, "Making the day even more enjoyable was the fact that the lines for rides were very small at both parks. We were having such a good time, we didn't leave the park until 8:30 at night. We can't wait to do it again next year."
Padden also was one of the 36 prize winners as she walked away with a $25 gift card for Zappos.
As they say, a good time was had by all. And for the Sundance employees who didn't make it to Sundance Day at Dorney this year, make it a point to mark the date on the calendar for next year.
A special tip of the hat goes to John and Tina Dowd, co-founders of Sundance Vacations, for offering such a fun-filled event for their employees to enjoy.
For more information, updates, travel tips and news from Sundance Vacations, be sure to follow us on the following social media outlets:
Sundance Vacations Visits Dorney Park