If anyone knows how to travel, it's the Dowd's–the co-founders of Sundance Vacations! They take a family ski vacation every year and have tried many locations including Vail, Colorado; Whistler, British Columbia; Jackson Hole, Wyoming; Salt Lake City, Utah and Stowe, Vermont. The Dowd's are a varied group of intermediate to advanced skiers and riders. They've recently completed their first ski trip to the French Alps and have a lot of comparisons to make to Vali, Colorado.
---
Europeans use a slightly different difficulty rating system, Green, Blue, Red and Black.  Red and Black roughly align with our Black and Double Black.   
The Alps are breathtaking, in part because of the visible rise of the mountain. The villages lie at approximately 3,500 feet above sea level and the peaks soar steeply up to 12,000 – 14,000 feet. The vertical visibility makes for a jaw-dropping, awe-inspiring view. For example, in Chamonix, the Dowd's ascended the Aiguille du MIDI, the highest cable car in France to the Mont Blanc "visitor" center.  This is the closest you can get to the summit without climbing, and is situated at 3842m or 12,604 feet. It was a sunny, blue-sky day and they enjoyed 360-degree panoramic view into Italy and Switzerland. Walking on the glass floor of the "Step Into the Void" experience was more than one of the tough guys in attendance could stomach and they all had slight headaches and felt a little lightheaded after a period of time. Nonetheless, The Dowd's and their family enjoyed watching extremists ski across the glacier in the direction of Italy, winter hikers struggle for forward progress in the thin air, and absolute lunatics launch themselves from the icy ridge to paraglide and paraski back to the base. The terrain in Chamonix, while beautiful, is also rugged and advanced.
The Dowd's chose neighboring Megeve as their ski destination to accommodate the group of varied ability levels from intermediate to advanced. Despite being shocked by the lunatics who were paragliding from Mont Blanc, they did give in to the paragliding idea and booked a tandem glide from a much lower altitude near Megeve.
The chart below is a comparison of the ski experience in the Alps and Vail, Colorado. Vail is the ski destination that the Dowd's return to year after year and has become the standard to which all ski vacations are compared. Vail scores superior in more than half the categories listed below. Everything about Vail is purposefully designed to maximize the skier experience.  
Feature

 

 

 

 

Alps
Vail
View 

Superior. Can view approximately 9,000 vertical rise from village to peak.

 

The Rocky Mountains are spectacular but the base of the mountains are part of the mile high plateau so you can view an average vertical rise of 4,000-8,000 feet because the villages are at altitudes of 7,400 already.

 

Physical Impact on Body 

Superior. Villages are low in the valley; air is not desert dry.

 

Altitude sickness because base is already high; extremely dry air can dry out nasal passages and cause nose bleeds.

 

Detailed, Understandable Ski Map

 

Flat with no topography features; difficult to read, distorted distances.

 

Superior. Trail maps are detailed and accurate with zoomed in views for popular areas.

 

Trail Signage 

Individual trails may be marked at the top but additional signage is not placed throughout the run. Green Overt sign means OPEN, it does not signify a "green" level run.

 

Superior. Frequent signage along the run lends a level of confidence for mountain navigation.

 

Lift Lines

 

Complete chaos, crowds converge in a half circle around lift, jockeying for space, stepping on each other's equipment.  Complete attention necessary, like fighting a traffic jam.

 

Superior, efficient, organized queues. Alternating lines in the queue, can enjoy the company and conversation with your ski partners while sliding forward in line, Can clear 3600 skiers in 60 minutes.

 

Well-Funded, Modern Lifts 

Frequent tow bars and 

old, slow two-seat lifts that are nostalgic for the first lift of the vacation but grow tiresome quickly; cable cars are packed like sardines.

Superior, high-speed quad and 6 person lifts and some high-speed gondolas from the base.

 

Restrooms 

Tiny, single stalls with long lines. Not nearly enough to service the number of skiers properly.  "Pit toilets" in some locations.  Complete stench when you get near any toilet facility.    

 

Superior. Modern, clean facilities built to handle peak crowds

 

Extra Amenities 

 

Superior. Tissue dispensers in the lift line; on mountain, uniformed photographers

 

Snow Quality 

LOVED the feel of the snow. Was expecting ice to be prevalent, but it was not. You will need a scientist to explain the difference between the snow, that's above my paygrade.

 

People LOVE the dry, fluffy powder of the Rocky Mountains. 

 

Grooming 

Grooming often consisted of a "road" 1-2 cars wide. This forces heavy, heavy skier congestion on narrow groomed surfaces.  There is space for the grooming to be extended to be wider but a majority of the terrain is left natural with moguls, but a majority of skiers were skiing on the groomed surface.

 

Superior. Award winning amount of wide, groomed runs.

 

Safety 

Dangerous intersections where many trails cross not just converge; lack of visible ski patrol to control speed in high traffic areas; heavy congestion on narrow groomed areas puts skiers at advanced risk of collision, general lack of skier etiquette regarding downhill skier having the right of way; dangerous loading of cable cars, crowds push forward there is no prevention from someone falling between the cars.

 

Superior. Extensive grooming in bowls and wide trails spreads skiers out and reduces the risk of collision.  Adequate number of ski patrol staff members with radar guns to control high speed, straight lining, lift lines and gondola entrances are staffed for skier safety and crowd control. 

 

Price 

Superior. Lift tickets are about ½ the price of Vail.

Extensive grooming, staffing for safety, modern lifts and maximizing the skier experience each add to the expenses needed to run a world class, safe ski resort resulting in higher lift ticket prices. Tort and liability in the US probably contribute the most to the higher lift ticket price tag.

On Mountain Dining

 

Superior. High quality, freshly prepared food from local establishments.  Restaurants are good enough to draw people up the gondola to eat on mountain.

SuperMegeve

attracts a line of skiers and villagers alike with the delicious aroma of perfectly grilled slabs of meat.

La Fruitiere

serves lemon gnocchi that is as tasty as any fine dining restaurant. Lunch takes a LONG time. Eating is an experience to be savored.

 

Food service company runs on mountain dining. Cafeteria food for the masses. 

 
In closing, Vail scores superior in eight of the thirteen categories. John and Tina Dowd had an amazing time with their family in the Alps, and we know from first-hand accounts that they will treasure the trip forever. Every time they travel abroad, they end up with an appreciation for new sets of cultures. They are happy to experience the continental lifestyle while also forging a deeper appreciation for their beautiful home, the United States of America. Get out there and experience all the world has to offer and come back home feeling refreshed and grateful to live in the greatest country in the world!   
---
For more information, updates, travel tips and news from Sundance Vacations, be sure to follow us on the following social media outlets:
Summary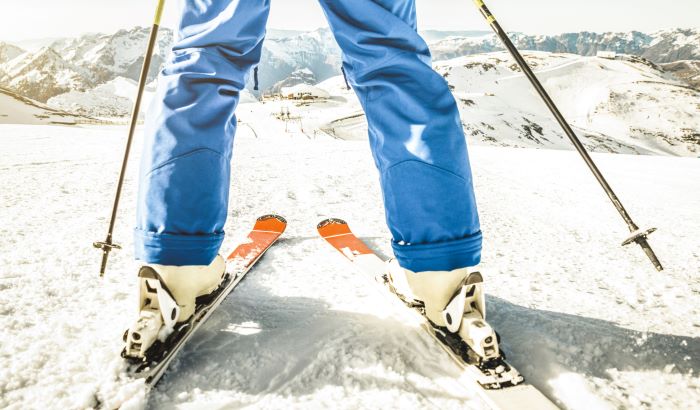 Article Name
The French Alps or Colorado? Where You Should Take Your Next Ski Trip
Description
John and Tina Dowd, Sundance Vacations co-founders, recently completed their first ski trip to the French Alps and have a lot of comparisons to make to Vali, Colorado.
Author
Publisher Name
Publisher Logo