Editors Note: On Earth Day, it's important to take a look at what's important.  Here at Sundance Vacations, we love traveling and sending our travelers on awesome vacations to some amazing destinations.  The planet that we live on is the object that makes seeing these amazing places possible, so that is why we care so much about the environment around us.  This Earth Day, let's all make a vow to take care of this gorgeous planet and make sure that for generations to come, it will be a place we can grow, learn, vacation, admire and most importantly, live.
Here's a question for you to ponder. What do Nikola Tesla and green technology have in common?
Before going any further it must be noted that Tesla, who was born in 1856, was a brilliant electrical engineer who invented the alternating-current induction motor. And that was eons before the term green technology came into being.
The advent of green technology led to ways and means of reducing pollution and damaging emissions, among them the birth of the electric vehicle (EV). In the early years, most owners of EVs had to charge the batteries of their cars at home. But, over the years, EVlink charging stations began popping up all over the United States. This led to owners having the ability to take much longer trips without returning home for that all-important recharge.
So, what does Tesla have to do with all of this? Well, he did create the alternating-current induction motor. Ironically, Tesla died penniless and alone in a seedy hotel room despite the fact that he was the genius who created the alternating current electricity infrastructure we use today.
With that in mind, Martin Eberhard and Marc Tarpenning chose to honor the memory and accomplishments of the electrical wizard by dubbing their upstart, Silicon Valley-based electric vehicle company, Tesla Motors in 2003. Eberhard and Tarpenning played active roles in the company's early development prior to the arrival of Telsa's trailblazing new CEO Elon Musk.
With Musk at the helm, Tesla Motors hit the ground running and still hasn't slowed down. From the beginning, Musk consistently maintained that Tesla's long-term strategic goal was to create affordable mass market vehicles. Musk received the Global Green 2006 product design award for his design of the Tesla Roadster (the first fully electric sports car) and he also received the 2007 Index Design award for the same vehicle.
Today, there are many makes and models of EVs which, more than ever, necessitates the need for more and more charging stations.
Following the progressive and forward thinking of Tesla and Musk, the owners and co-founders of Sundance Vacations, John and Tina Dowd, decided to contribute to the ever-expanding green technology philosophies.
Though there are numerous EVlink charging stations across the United States, the Dowds wanted to become part of the environmentally friendly "green" movement. To accomplish this, the Dowds had an EVlink charging station installed at the Sundance Vacations corporate headquarters on Highland Park Boulevard in Wilkes-Barre, Pennsylvania.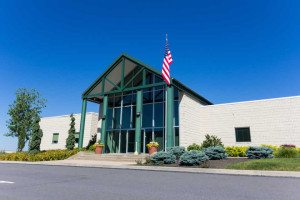 Taking it a step further, the Dowds wanted the charging station to be available to owners of electric vehicles. But, wait, it gets even better. Owners of EVs can charge their vehicles free-of charge (no pun intended). That's right, all an owner has to do is pull into the Sundance parking lot (it's the same building that houses the McCann School, which is across from the Mohegan Sun Arena at Casey Plaza), hook up and charge.
"We wanted to give electric vehicle owners a little boost by providing a charging station in Wyoming Valley," Tina Dowd said.  "We're offering free charges because we are firm believers in promoting green technology."
The EVlink charging station is clearly marked as the parking space in front of the Schneider Electric station has lines that are painted, you guessed it, green.
With the EVlink charging station, it's possible to charge an EV in less than 20 minutes and it is suitable for all types of electric cars. The EVlink quick charging station, like the one at Sundance Vacations, is sturdy, modern, ergonomic and suitable for an outdoor environment. The quick charging station provides users with two charging types: direct current or alternating current, depending upon the vehicle's compatibility.
EV drivers can cope with the unexpected, thanks to the quick charge option. They'll be able to charge 80 percent of their electric vehicle's battery in less the 20 minutes. Offering quick charging enables EV owners to complement charging solutions.
"The charging stations provide a simple and efficient way for filling up with power very quickly when needed. We welcome any EV owner to take advantage of our free charging station. Not only will they be saving money, they'll also be saving the planet," Tina Dowd emphasized.
Published reports say that charger market value will increase more than five-fold over the next decade, but car charging will grow much faster, which necessitates the need for more and more charging stations like that at Sundance Vacations.
Because of its unprecedented growth and success, there is more to add about Telsa Motors. More than a decade ago, when Musk announced his plan to lead a revolution from gas-powered to electric cars it seemed like a classic case of overreach. But, he proved everyone wrong.
Tesla Motors is America's first successful automaker start-up since – well – since automakers first started up. Musk, a founder of the online payment service PayPal, poured his personal fortune into the company with the goal of solving the problem of sustainable production and consumption of energy, which he calls, "the largest terrestrial problem that we face this century."
Tesla's current contribution to a solution is the Model S, an American-made, all-electric luxury sedan with a range of 250 miles per charge. With more than 25,000 Model S's on the road, which owners can drive from coast to coast, charging for free at Tesla-built superchargers on the way, Tesla has silenced the nay-sayers – and the company is just getting started. In addition to its EVs, Tesla also has designed the most advanced battery pack available, boosting the range of 250 miles.
In keeping with Musk's environmental philosophies, the Dowds felt that offering free charges to EV owners would help to contribute to today's environmentally friendly green way of preserving the planet.
For more information, updates, travel tips and news from Sundance Vacations, be sure to follow us on the following social media outlets:
Charge Your Electric Car at Sundance Vacations