So You're Going to Las Vegas for New Year's — Now What?
There's no better place to ring in 2017 than in the Entertainment Capital of the World. You've booked your travel arrangements, packed your bags, and, after working so hard all year long, are more than ready for takeoff.
Whether spending time on The Strip or watching a one-of-a-kind show, this bustling Nevadian city has something for everyone's tastes.  But with so many options to choose from, how do you know which will be worthwhile?
As it turns out, you're in luck. Here at Sundance Vacations, we've compiled a list of the top five can't miss opportunities for a truly unforgettable New Year's weekend.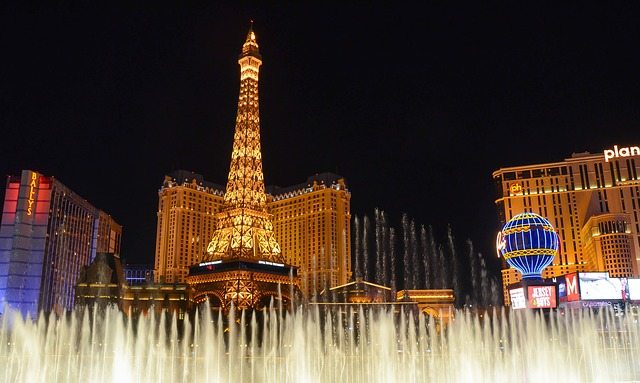 1.) NYE 2017 America's Party Downtown & Fremont Experience

Rightfully placed at number one, America's Party Downtown is Las Vegas's most anticipated event for celebrating the holiday. The entire Strip will close to traffic on December 31st and transform into the largest block party on the West Coast. Offering a new rendition of the Viva Vision light show, SlotZilla zipline, and live music on three stages, guests can see it all in the company of over 300,000 of their closest friends. Musical guests include both local and national talents like Green Day, Imagine Dragons, and Blue String Theory. See the full event calendar here.
General admission tickets start at just $40 and festivities last from 6 p.m. to 3:30 a.m. All guests must be 21 or over to attend. Partygoers can enter from all Freemont Street Casinos and gates located on Main, 3rd, and 4th streets.
2.) Las Vegas NYE Fireworks Display
When the clock strikes midnight, seven of The Strip's hotels including the MGM Grand, Circus Circus, Planet Hollywood, the Venetian, the Flamingo, Treasure Island, and the Stratosphere will welcome the New Year with a must-see fireworks show. As the evening's pinnacle, the show will be choreographed to the year's most popular music. For the best views of the dazzling colors and displays, try a rooftop bar or lounge. The Eiffel Tower, Stratosphere, and Ghostbar at the Palms both offer great atmospheres and stellar skyline perspectives.
Want to be even closer to the action? Spend your evening on the High Roller at The LINQ. Standing at 550 feet, the High Roller is the world's tallest observation deck and a prime spot for the show.
3.) Elton John, Maroon 5, and More
Want to see one of your favorite artists while in town? Kick off your holiday celebrations by listening to the piano man himself or one of today's other great talents. With shows all weekend long, there's plenty to see. Check out some of the headliners below:
For a full list of performances, visit here.
4.) Magic & Men
David Copperfield at the MGM Grand
As one of Las Vegas's most famous attractions, the David Copperfield magic show is a perfect precursor to your midnight festivities. Performances will take place at the MGM Grand's Hollywood Theatre on New Year's Eve and Day at 4:00, 7:00, and 9:30 p.m. Ticket prices start at $72. Purchase them here.
Blue Man Group
They're bald, blue, and anything but boring. A permanent fixture of the Vegas lifestyle, Blue Man Group incorporates the latest tech and music into their eccentric performances. As funny as they are clever, this is one performance you don't want to miss. Tickets start at $86. Get times and event information here.
Want more? Visit here to learn about more shows happening New Year's weekend.
5.) Ron Decar's Swinging New Year's Eve
Looking for somewhere family friendly to spend the evening? Ron Decar's Event Center is the perfect place. Come for dinner, live music & entertainment, and a great view of the fireworks all under the same Vintage Las Vegas roof. Bring your dancing shoes and best attire–everyone will be dressed to the nines at this black tie event. Children are welcome to attend accompanied by a parent.
Doors open at 6 p.m. with dinner at 7 p.m. and a show starting at 9 p.m. Tickets can be booked starting at $125 here.
Hints for a Safe and Happy Weekend
To make sure your weekend is as fun and worry free as possible, take note of these tips:
Traffic on The Strip will close to the public at 6 p.m. Be sure to find alternate routes and arrive at your destinations early.
Most hotels close their doors around 11 p.m. to outside guests in order to control capacity limits. If you'd like to ring in the New Year indoors, get there a few hours prior.
Bundle up! Though the city is in a desert, temperatures can cool down significantly at night.
Above all else, be safe and enjoy your time in Sin City. Happy 2017 from Sundance Vacations!