Fall, the time of the year when nature reveals its beautiful mixed-colored leaves, pumpkins rest on hay bales patiently awaiting to be carved into Jack-O-lanterns and travelers bundle up in sweaters and scarves to enjoy the outdoors before the cold winter air rolls in.
It's a time to pack up those long-dried swimsuits and prepare for campfires and marshmallows!
But, just because we're saying goodbye to summer weather, doesn't mean that our Sundance Vacations travelers are done taking trips.
Autumn is the perfect time for a getaway and many people are jumping to book vacations now before the frost hits.
You might be a dedicated summer vacationer and prefer to travel in July; we get that. Who doesn't love to feel the sand between their toes or splash around with dolphins? But that's not all Sundance Vacations has to offer. Learn more about these Sundance Vacations destinations for September through November!
1.  Smoky Mountains, Tennessee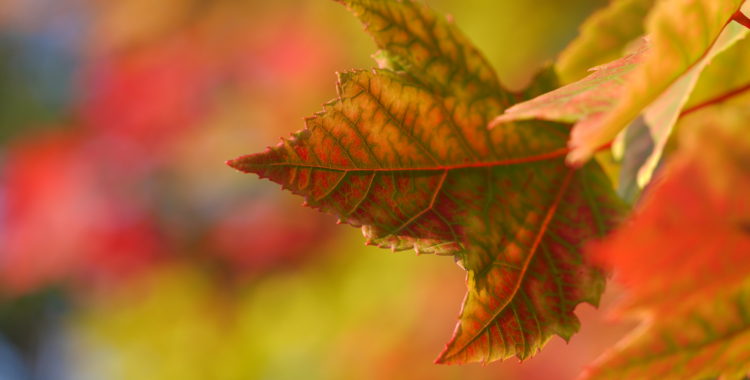 Our Sundance Vacations destinations in Tennessee, located in Gatlinburg and Sevierville, are only about 25 minutes apart from one another.
Gatlinburg is perched right at the entrance of the Great Smoky Mountains National Park and due to its prime location, this little town is always abuzz with travelers.  It is home to many outstanding shops and restaurants.
Sevierville is in the heart of the country and the hometown of musical star and actress Dolly Parton. The area is famous for its outlet malls, flea markets and other specialty stores as well its thrilling outdoor adventures.
Although these areas are frequently bustling with activity in the summer, the fall transition certainly doesn't bring an end to outdoor activities in rural Tennessee.
The Great Smoky Mountains National Park is America's most visited park, which comes as no surprise with its gorgeous streams and waterfalls, bountiful wildlife and scenic views.
September is when the sun starts setting earlier, increasing the amount of darkness and changing the chemical processes in the leaves. Over 100 species of trees exist in the Smokies, so you're almost certain to see a mix of greens, yellows, oranges and reds from September through late October.
A visit during the fall is sure to inspire your inner wanderlust.  Take a Tennessee adventure through the kaleidoscope of colors! Here are a few ways to enjoy the season with Sundance Vacations:
Hiking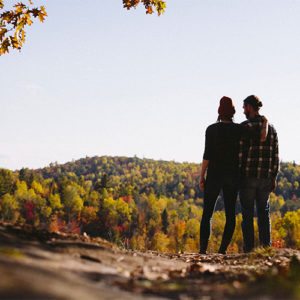 Smoky Mountain National Park features over 850 miles of hiking trails!
On a mountain range so large, where do you even start? You could begin by deciding what you're looking to see. There are trails that lead to waterfalls, breath-taking views of the range and surrounding area, birdwatching and more. Want to see it all? Strap up your hiking boots and map out your adventure!
There are even kid-friendly trails to ensure your little one is safe while exploring. Some Sundance Vacations travelers who have explored Gatlinburg suggest visiting Albright Grove, Sugarland Mountain, Andrew's Bald or Mt. LeConte trails during September and Lower Mount Cammerer, Little River, Low Gap and Goshen Prong trails during mid-October.
To find the perfect trail for fall, be sure to learn more about Autumn Color in the Smokies. For general information on hiking the Smokies, be sure to check the National Park Service website.
Check out our other article on fall foliage, to see when the perfect time to visit our properties in Tennessee!
Fishing
Holy trout! The Smoky Mountains National Park also has 2,900 miles of rivers and streams as well as two great lakes for fishing!  From trout to bass, there are plenty to reel in. Fishermen with a valid permit are welcome to cast a line year-round in the park from 30 minutes prior to sunrise and 30 minutes after sunset.  Although anglers all welcome all year, autumn is truly a lovely time to not only catch fish, but beat the heat too.
Whether you're looking to catch a few smallmouth bass or pull in a rainbow trout, be mindful of the daily limits and size restrictions of your catches. Preserving wildlife and nature is important to ensure the area stays lively and beautiful.
Wildlife Watching
Do you love seeing animals in their natural environment, but would rather not be face-to-face with a black bear? There are open areas near the Smokies that are hot-spots for seeing deer, elk, raccoons, turkeys and even bear from the safety of a vehicle. Roaring Fork Motor Nature Trail, Cades Cove and Cataloochee are the best spots to drive through or park your car to wait for timid wildlife to cross your path. Grab some binoculars and a camera and head out in the early morning or evening for the best chance of an encounter.
Helicopter Tours
You can still experience the beauty of nature without having to take a hike through the woods.  How?  By taking a helicopter tour over the mountains!  Scenic Helicopter Tours will take you to parts of the mountain that are difficult to see on foot. With 12 different tours, the family can experience anything from a scenic 8-mile glide over the French Broad River to a full 100-mile Smoky Mountain Spectacular with a customizable flight path! People of all ages can fly across the colorful splendor and enjoy seeing these once-in-a-lifetime views.
Have the mountains captured your interested?  To learn more about the Smoky Mountains in Tennessee, including things to do and places to eat, please visit its page in the new Sundance Vacations Properties section on our website.
2.  Harbor Springs, Michigan
Harbor Springs lies between extraordinary hills and the deepest natural harbor in the Great Lakes. It is on the north shore of the Little Traverse Bay located right on Lake Michigan. Locals celebrate its strong Woodland-Indian heritage and prosperity by welcoming travelers to learn about the area's rich history.
During autumn, Michigan is alive with fall festivals and weekend activities for all.
Here are a few must-stop places to enjoy pumpkin patches, the gorgeous colors of the leaves and more!
Fall Festivals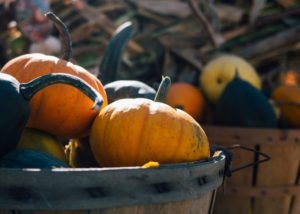 Every Saturday and Sunday from September 26 until October 25 you can be a part of the festival at Pond Hill. Pick the perfect pumpkin from a wide assortment of shapes, sizes and colors, watch one of their adorable pig races as they scurry along and enjoy some warm cider and donuts. Kids love their Squash Rocket, a gigantic slingshot that you can use to fling fruits and vegetables soaring into their open field. Don't worry about the cleanup; the leftover food is eaten down by their animals and provides nutrients for the land.
Only 35 minutes from Harbor Springs is Boyne City, the home of Young State Park right by Lake Charlevoix. Each year in October the Young State Park Fall Harvest Festival offers pumpkin carving, pie-making contests, crafts, hayrides and haunted trails to roam in preparation for Halloween!
But wait, there's more! Held each year during the second week of October, Apple Fest goers can experience the delicious taste of apples wherever they step. Ciders, apple butter, apple pie and even pumpkin treats are made from over 30 different kinds of apples and fall favorites. Enjoy pumpkin carving contests, face painting and a number of arts and craft exhibits in Charlevoix!
Sightseeing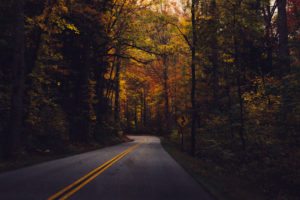 Many of our travelers rave about the Fall Foliage Color Tour on M-119. This 20-mile stretch offers a winding road full of hardwoods and swirling leaves. You can begin your tour right from your suite in downtown Harbor Springs by hopping on the highway. You'll pass by golfers putting at Harbor Point Golf Course and the pristine Thorne Swift Nature Preserve, where you could stop to walk the trails.
If you continue down M-119 until you reach Cross Village, you'll find a nice stopping point in Good Hart to explore the fun shops and travel through the "Tunnel of Trees." Enjoy the sun as it peaks through the foliage and shines gently through the opaque leaves on your drive or stroll.
Another must-stop location during the fall is at Boyer Glassworks, to see their infamous glass pumpkin patch! That's right; Harry Boyer and fellow glassblowing artist Lynn Dinning gather hundreds of glass pumpkins in their garden at Three Pines Studios. Their masterpieces are for sale so you can come home with a souvenir to remember your fall excursion in Michigan!
Golfing
Harbor Springs, Michigan welcomes golfers from all across the country. The area offers over a dozen courses directly in the center of or near Harbor Springs and is a stunning way to for our Sundance Vacations travelers to experience the outdoors.
The Chestnut Valley Golf course is carved out of a rustic log home community located in a hardwood forest. Putting here is both challenging and scenic, ideal for enjoying the season's beauty. Harbor Point Golf Club is well known for their excellent greens and marvelous view of Lake Michigan. Enjoy a three-hour round before they close for the season in mid-October.
If you're just beginning to play golf, you could check out Little Traverse Bay Golf Club. Their PGA golf professional, Matt Shalhoup, can help you make adjustments to your swing and perfect your ball striking technique for the best impact. This is a great course for the new players to receive a golf lessons while the more experienced people in your party hit the links.
With fall festivities for the whole family, Harbor Springs is a leisurely area to appreciate the beauty of nature and welcome fall.
Learn more about our destination in Harbor Springs, Michigan on our website to start planning your trip today: Sundance Vacations Properties.
3.  Stowe, Vermont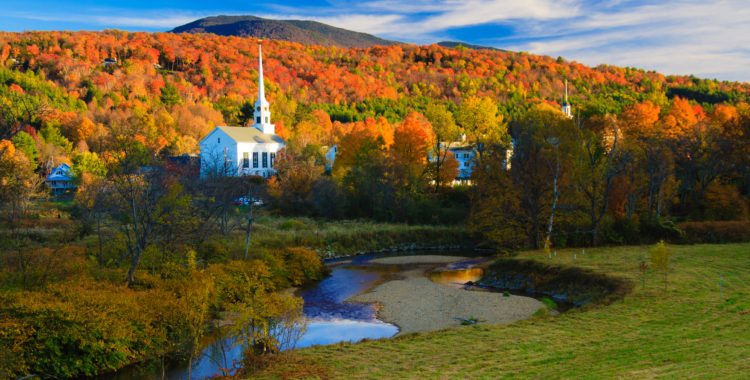 Stowe, Vermont is quite literally surrounded by mountains. It lies between Mt. Mansfield and a portion of the Green Mountains to the west and the Worchester Range to the east, making it an ideal destination for our adventurous travelers. The Waterbury River, often referred to by locals as the Little River, empties into large reservoirs and flows above the town into the neighboring Winooski River.
Because the area is a mix of peaks and bodies of water, there are dozens of ways to experience autumn such as boat charters or river tours, gondola rides, cycling or mountain biking, canoeing or kayaking, fishing, horseback riding and just about anything else you could imagine!
Water Activities
The Fall Foliage Scenic Boat Charter offers guided boat rides which will take you through the picturesque Waterbury Reservoir. It is one of four dams that was created in the 1930s for flood control and is an earth-filled dam, meaning it is made out of natural stone. Nestled between two mountains, you'll experience over five miles of beautiful foliage while sailing through the water.
Along the shoreline is part of Mount Mansfield State Forest, which is home to a variety of wildlife. See dozens of handsome ducks dive down to catch a fish, such as the coveted Black or Wood Duck, as well as deer or bear along the shoreline. Lucky travelers have even witnessed moose crossing the reservoir and the occasional majestic bald eagle soaring through the sky.
If sitting still on a boat ride isn't right for you, it's not too chilly to kayak or canoe in the fall! There's no freedom greater than being able to paddle your own path on the open water. There are a number of lakes and rivers very close to Stowe such as Lake Elmore, the Green River Reservoir, the Lamoille or Winooski River and more. Lake Elmore is perfect for idle floaters to sit and enjoy the views, the Green River Reservoir gives paddlers a view that cannot be seen from a boat tour, and the Winooski River is the second largest river in the state.
Vermont's reservoirs are undeveloped and undisturbed, while its rivers offer wider passages through farm area and the countryside.
Aerial Views
Why not see the seasons change before your eyes from the top of the mountains? Stowe Mountain Resort offers a Stowe Gondola SkyRide. Witness aerial views from the peak of the highest mountain in Vermont and enjoy lunch at the top at their Cliff House Restaurant. There are hiking trails at the top as well to adventure through the woods.
Looking for a little more thrill? The resort also has zip lining at their ZipTour Adventure, which includes all-day access to the gondola. There are a variety of zip lines from 150-foot long lines that rise 10 feet off the ground to over 4,000-foot long paths that are 130 feet high! There are even lines side-by-side to feel on top of the world right next to your loved one.
According to the resort, their "ZipTour is the world's fastest and most exhilarating zip line experience."
Their cutting-edge braking system allows zip liners to control their speed, although individuals are still capable of reaching up to 60 miles per hour on their descent!
Mountain Biking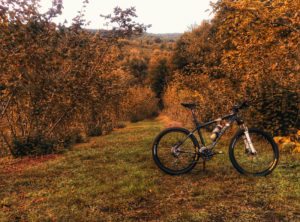 Vermont is paradise for mountain bikers of all skill sets, from advanced thrill seekers to intermediate riders. Stowe itself has four different locations, each with their own appeal. Get ready to gear down to throttle up challenging elevations or lock into a stable stance to zip through winding trails! What better way to experience autumn than by gliding through the swirling leaves and feeling them crunch beneath your own wheels?
Adams Camp is a five-mile trail for intermediate to advanced riders and is usually a solid 1-2 hour ride. It's a great path for getting your legs pumping on Hardy's Haul or flying down the sinuous Kimmer's Trail!
If this isn't your first rodeo and you're looking to prove your stamina, the Cottonbrook Trailhead is the route for you. It's located on Nebraska Valley Road in Stowe and boasts an intense 9-mile uphill climb. There's also swimming holes here to cool off after a good sweat.
Just started mountain biking? That's okay! The Little River State Park Trailhead located in Waterbury is a double track perfect for someone new. Double tracks allow riders to ride side-by-side rather than a single track which is narrow and only allows one biker at a time.
Beginners can tackle Cady Hill Forest by finding the trail head at the forest's parking lot on Mountain Road/Route 108. With 9 miles to adventure, it's best to take a look at a map to see where the tracks are for your skill level. Cady Hill offers a range of trail difficulties, much like Sterling Forest, which has 10 miles of trail to explore. Purchase trail maps at a local bike shop or sports store and map out your ride first!
Vermont is a perfect place for adrenaline junkies and is full of numerous more outdoor activities to do during this time of the year. For more information on the area, read our destinations article: Sundance Vacations Destinations: Stowe, Vermont or check out more things to do in Stowe on our website: Sundance Vacations Properties.
Time to Start Planning!
Autumn just settled upon us this week and it won't last forever!
To experience the richness of fall at its peak, the best time to travel is now until late October.
Interested in learning more about our Sundance Vacations properties in Tennessee, Michigan, or Vermont? Head on over to our website to see the best destinations for the fall and book your trip now: Sundance Vacations Fall Destinations.
Don't forget to take our new quiz, "Where should you travel to this fall?", which includes these three great destinations!
For more information, updates, travel tips and news from Sundance Vacations, be sure to follow us on the following social media outlets:
It's #NationalVermontDay! Also known as The Green Mountain State, it's one of our 3 Must-Visit Fall Destinations! https://t.co/QNpxJ2Uzlu pic.twitter.com/2KGFHReKz0

— Sundance Vacations (@travelsundance) October 12, 2017
Summary
Article Name
3 Must-Stop Fall Destinations
Description
The Smoky Mountains, Harbor Springs and Stowe are three great places for travelers to experience all that the fall season has to offer.
Author