Seeing a whale breach the steely waves for the first time is a majestic sight. Grand creatures like Humpback, Finback, and Minke whales can be observed in their New England natural habitats in October. If you're looking to travel a little closer to home, Humpback whales can also be spotted close to the coast of the Jersey Shore in May. If you want to experience these large mammals in action on your next vacation with Sundance Vacations, here's what you can expect!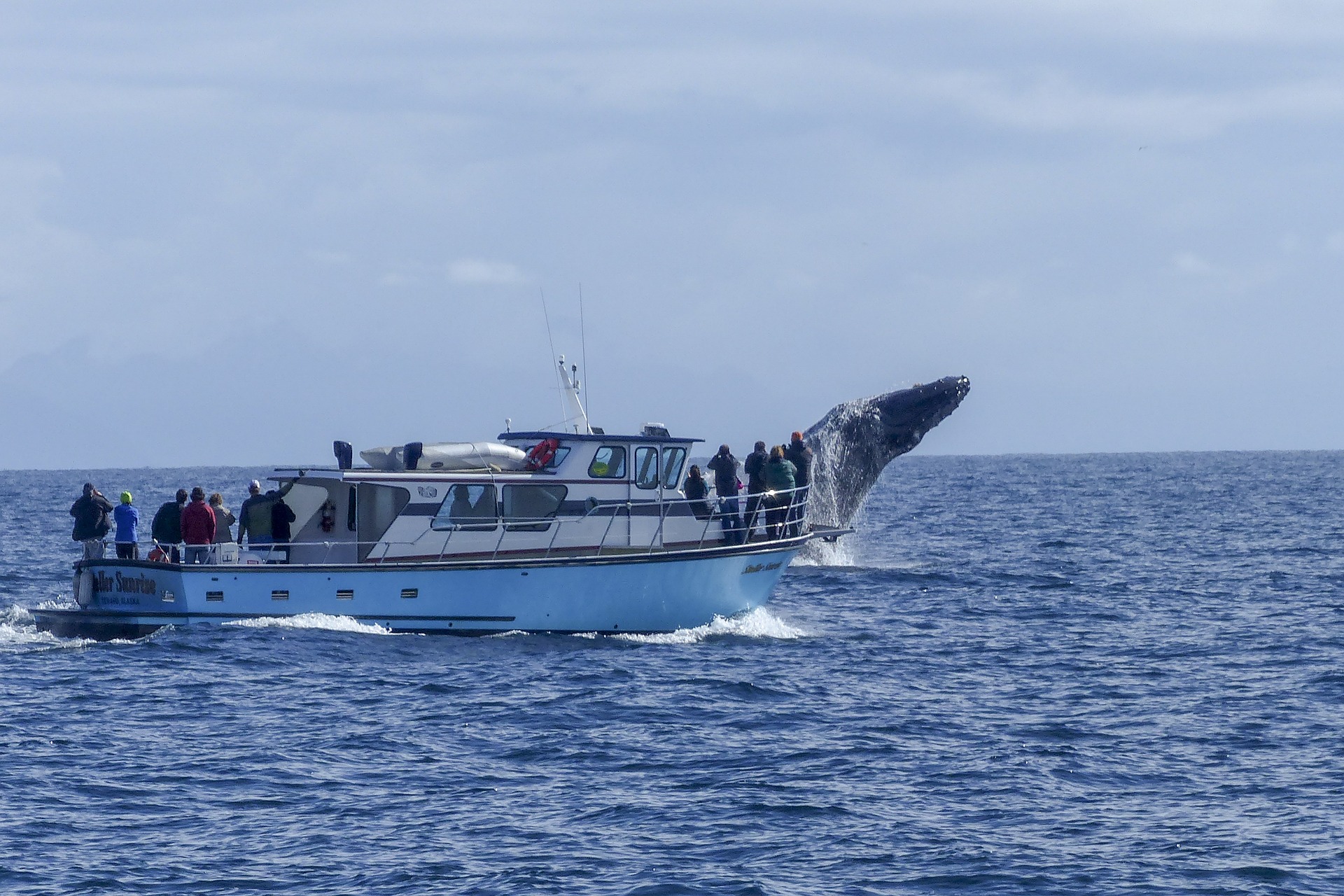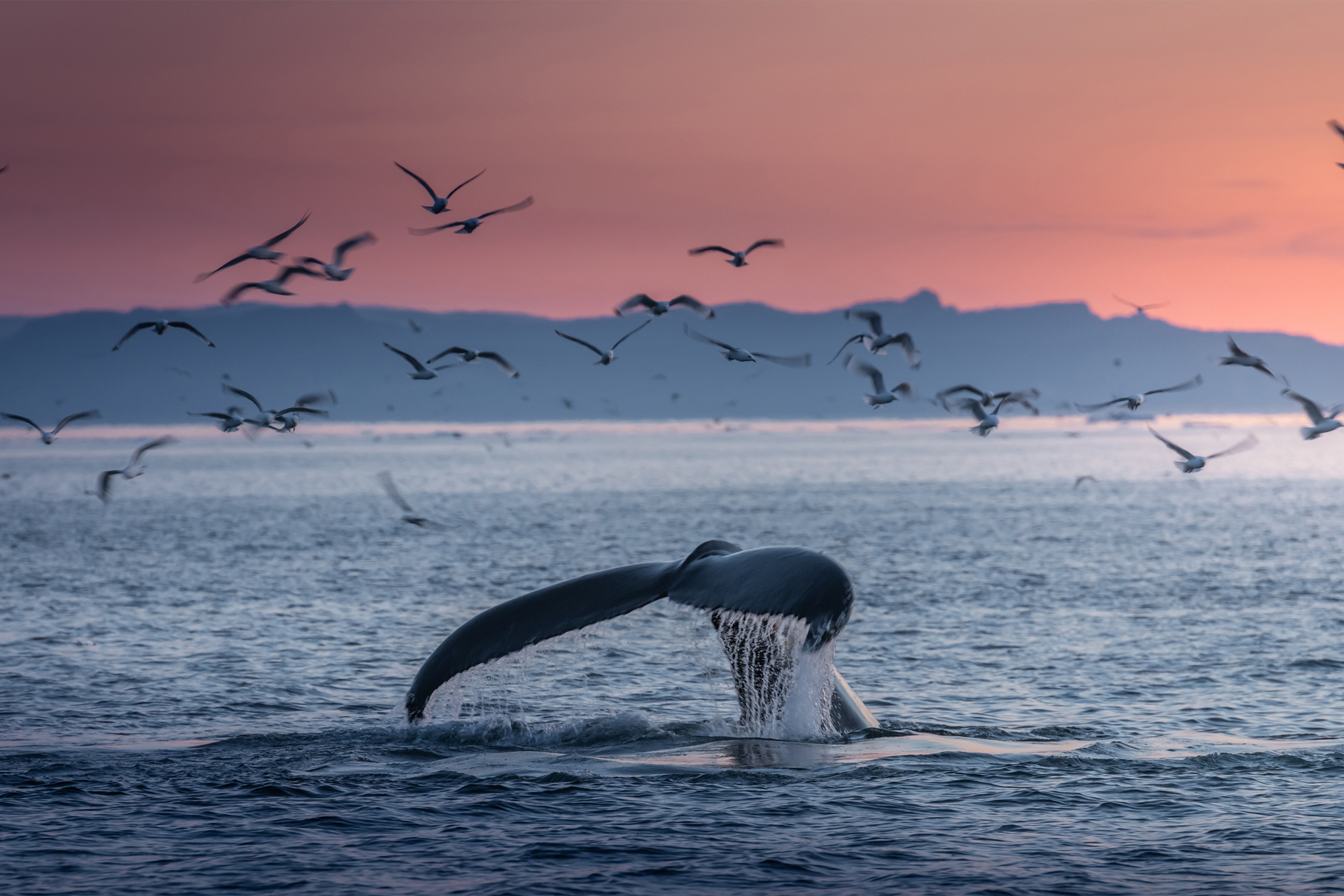 The most commonly spotted whale is the Humpback whale. Humpback whales are easily distinguishable by their sleek, smoky-colored back, and bumpy rostrum and flippers. Adult females can grow to become 60 ft. in length, and males are only slightly smaller.
---
New England
Falmouth, Massachusetts offers different offshore ways to experience whale watching in and around the area. Boating and cruise options include Hyannis Whale Watcher Cruises, SeaSalt Charters, Beth Ann Charters, and Whale Watching Dolphin Fleet just to name a few. Each of the mentioned boat tours are highly rated and renowned for their outstanding views, exceptional prices, and friendly staff. Services like Hyannis Wahle Watcher and SeaSalt Charters have reservations open and available for booking on their easy to navigate websites. Different times of day are offered so you can experience these majestic beauties flipping their fins at sunset, if desired! Charters like Beth Ann Charters also offer sportfishing trips for those looking to gather some friends together to reel in striped bass and bluefish. Prices, dates, and packages can be found online for each individual company.
While in the Cape Code area, consider staying with Sundance Vacations at the Innseason Resorts Captain's Quarters and Innseason Resorts Harborwalk. The Innseason Resorts Captain's Quarters offers an ideal setting across the street from Falmouth Heights Beach, the perfect spot for your escape to Cape Cod. Innseason Resorts Harborwalk overlooks the quaint and historic Falmouth Harbor, and is within walking distance to the next ferry and minutes from the beach.
---
New Jersey
Sundance Vacations has properties located in Atlantic City, Brigantine, and Wildwood—all close to the Jersey Shore! The ideal time to track whales in New Jersey is in May, and there are plenty of whale watching tours to take you on that journey! Jersey Shore Whale Watching Tours and Miss Belmar Whale Watching are two of the more popular tours. Jersey Shore Whale Watching tours guarantees that you will see a whale on your adventure, and if you don't you can return for free until you do! Online booking is available, and as of now, there are many days to choose from. Miss Belmar Whale Watching travelers often see marine animals like Humpback whales, dolphins, sea turtles, sharks, and rays. Information will be shared about each animal seen by an experienced naturalist.
Sundance Vacations has four fabulous resorts in New Jersey. Atlantic's City's Flagship Resort By Boardwalk Resorts sits right beside the AC boardwalk for easy access to great shops, food, and entertainment. Lasammana By Boardwalk Resorts and Brigantine Beach Club are both located in Brigantine. Lasammana is just steps away from pristine beaches and a short drive to Atlantic City's adventuresome casino district. The calm and serene Brigantine Beach Club is situated right behind Brigantines famous sand dunes. This stylish and beautifully appointed resort is a 5-minute walk to the Atlantic Ocean. Esplanade Suites is located in Wildwood, New Jersey and is only a short two block walk to the beach. Esplanade Suites has earned Tripadvisors 2020 "Travelers Choice" Award and the "Loved by Guests" Award from Hotels.com for delivering exceptional customer service in 2018!
---
Want to read about more furry (and not so furry) encounters that you can have with Sundance Vacations? Check out 3 Must Visit Zoos to Prowl Around and Explore and Manatee Viewing in Florida | Sundance Vacations!
For more information, updates, travel tips and news from Sundance Vacations, be sure to follow us on the following social media outlets: